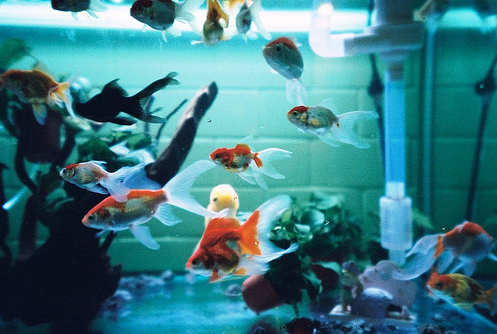 21.1: Noticed how I haven't posted for over a week? I hope not. But if you have, understand that it's only because a) I get bored of blogging sometimes, and 2. I've been spending all of my computer time working on my blog design shop, which is now finally open for business. You should definitely check it out and then tell me how awesome it is, or at least like it on Facebook. I'm glad that the pressure and stress of meeting my self-set deadline to open today is over. Now I can look forward to the pressure and stress of not getting any business. {Yay!}
21.2: Our water heater busted a few days ago. At least, we noticed it a few days ago -- we're not really sure when exactly it started leaking water all over our box of homemade Christmas ornaments. When we made those ornaments I thought, "In thirty years we'll be telling our kids every Christmas about how we made these the first year we were married, just like my parents tell us every Christmas when we put up the ornaments they made the first year they were married." Only, my parents were smart enough not to store their precious keepsakes next to a leaky water heater. {Clearly, my parents are much smarter than we are. I am. I think it was my decision to put the Christmas ornaments next to the water heater.}
As I type this, I have both air conditioning workmen and plumbers at my house. The air conditioning workmen are supposed to be moving over the colossal air conditioning unit so that the plumbers have enough room to take out the busted water heater and put a new one in. As I type this, no one is doing any work at all. In fact, I'm the only person in the house. Go figure. I'll let you know how all of this turns out.
21.3: Christian and I received our
LOST
Complete Series on Blu-Ray yesterday. When we opened the box from Amazon, we were a little confused, as what we saw inside looked more like a board game than a container for six excellent seasons of television. Seriously --
see for yourself
. We found the hidden bonus disc, we watched the special features, we were not especially impressed. But I am looking forward to watching the series again in amazing high definition.